Rechargeable LED flashlight with 2800 high lumen flashlight, using durable LED chips, maximum beam distance up to 300meters (1000 feet), easily light up an entire room or focus in on objects up to 1000 feet away! Intense spotlight for long range observation.
The high lumen flashlights equipped with XHP160 LED chips and a power of 20W. Super bright and powerful with 3 Modes: Strong-Low-Strobe; The flashlight also equipped with COB sidelight. Double click to switch COB mode. 4 Modes COB(Strong- Low- Strong  Red light- Red Strobe). The COB sidelight is a great assist for large area lighting, like night repairing, outdoor camping , etc. Best Combination as a tactical flashlight.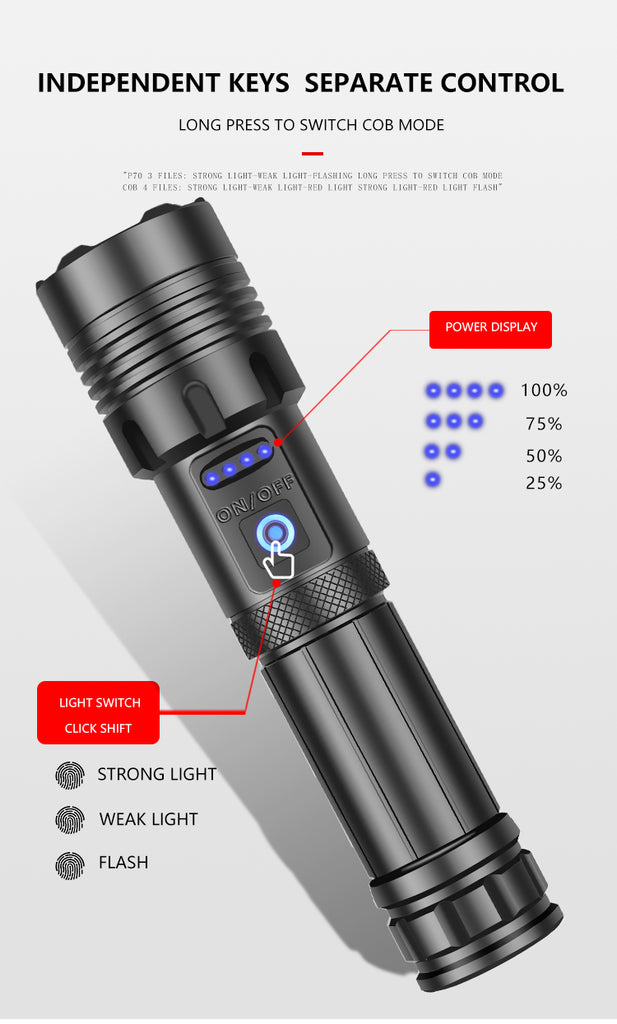 This powerful handheld flashlight has zoom function, Zoom in for large area light and zoom out for more concentrated light beam. Durable Aluminum alloy body, endure scratches, abrasions and corrosion.Flashlight with IPX4 waterproof , Anti-slip handle designing, make this flashlight perfect for using in rain, snowing or other emergency situations.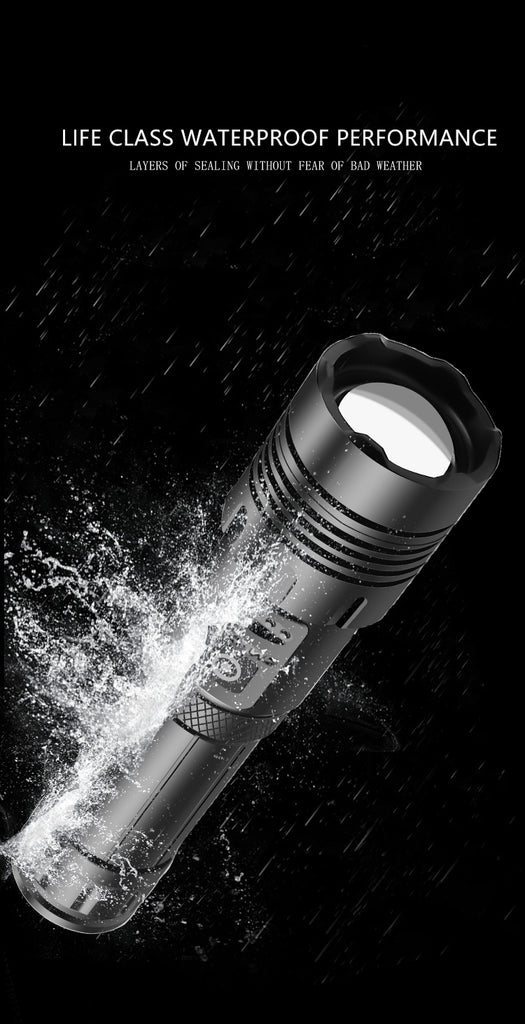 The rechargeable flashlight powered by 1 * 26650 rechargeable batteries,Come with power display : 100%-75%-50%-25% ,You will no longer have to guess the remaining power of the flashlight. When it's fully charged(about 6-8hours), The handheld flashlight can work for 2-5 Hours.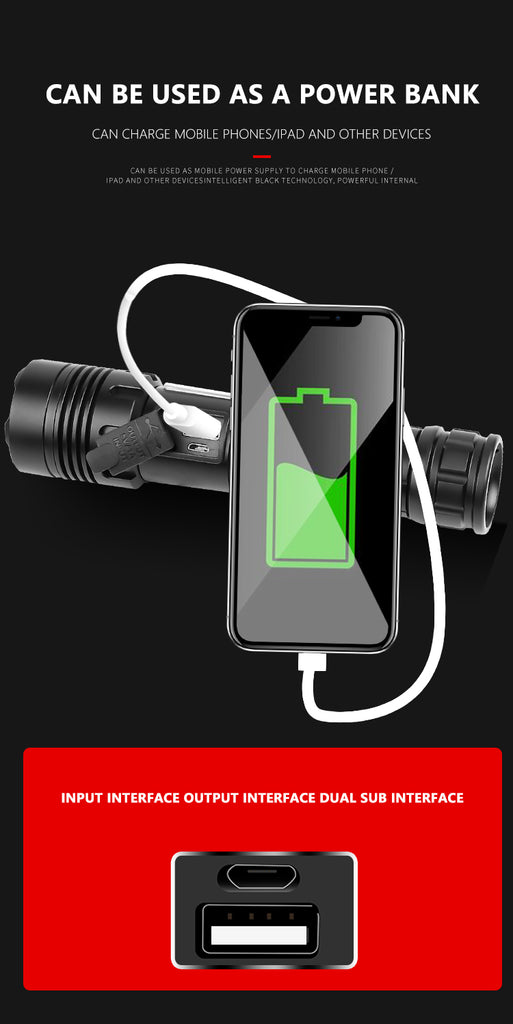 Two Style you can choose: Long & Short
Model: Short Rechargeable LED flashlight
Light bulb: XHP 160+COB LED
Size: 17.4*4.3*3.5CM
Net weight: 205G
Material: Aluminum alloy
Switch: Press switch
Battery: 1*26650
Switch Modes:
Light Modes modes: Strong light-Weak light-Strobe 
Double click to switch COB mode
COB 4 modes: Strong light-Weak light-Strong red light
t-Strobe red light
Long press to turn off
Charging method: micro USB charging
Zoom method: Telescopic zoom
Model: Long Rechargeable LED flashlight
Light bulb: XHP 160+COB LED
Size: 26.5*6*3.5CM
Net weight: 381G
Material: Aluminum alloy
Switch: Press switch
Battery: 2*26650
Switch Modes:
Light Modes modes: Strong light-Weak light-Strobe 
Double click to switch COB mode
COB 4 modes: Strong light-Weak light-Strong red light
t-Strobe red light
Long press to turn off
Charging method: micro USB charging
Zoom method: Telescopic zoom