P3 Suspension Trainer System helps you create intense full-body workouts anytime, anywhere. The PRO3 System is used by Professional Trainers, Pro Athletes, Olympians, and Fitness Pros worldwide. Our package includes P3 Suspension Trainer, 3 Suspension Anchors, Durable Textured Rubber Grip Handles, Padded Foot Cradles and a guide paper. This product gives you the ability to realize your potential and achieve all your fitness goals. Build Muscle, Burn Fat and increase Endurance & Improve Flexibility. Simple and easy setup allows the Suspension Trainer to be set up in 60 seconds. Anchor off any door, tree branch, rafter, beam or secured elevation point.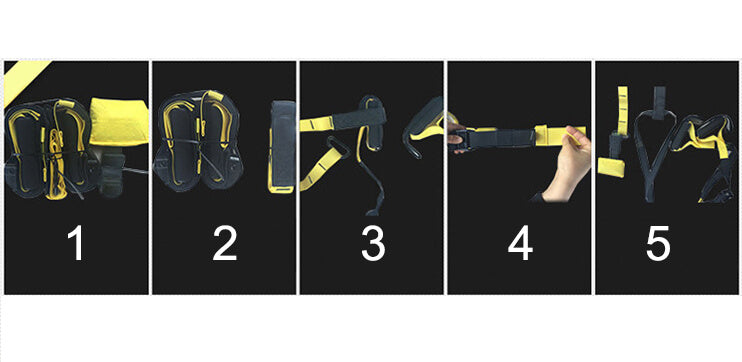 1. Take out the suspension training belt from mesh bag.   
2.Take out the connecting rope from the middle, and the remaining part is  the main rope. 
3. Pass one of the handles on the main suspension rope through the connecting rope.
4.Hold the buckle with one hand and pull the yellow adjustment rope with the other to adjust it to a suitable length.
5. Finally, adjust the length of the two sides of the hanging main rope, and you can use it after connecting with the door.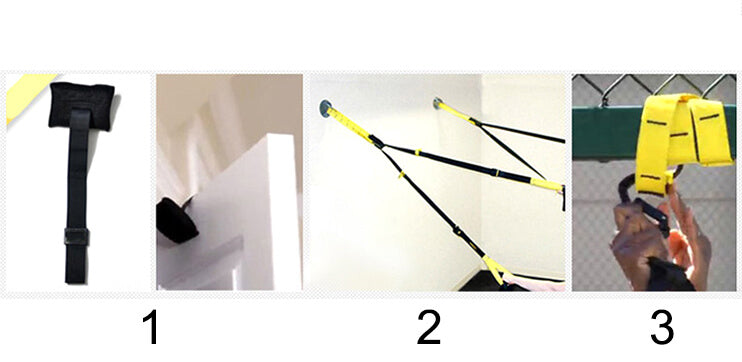 1.Use the door anchor and close the door to fixed.
2.Use fixing buckle to fix on the wall.
3.When used outdoors, it can be directly fixed with straps.


Material: TPE+ High Quality Polyester +Alloy metal
Adjustable length of main rope: 230cm-330cm/90.55''-130''
Extension belt length: 95cm/37.4''
Weight: 1.5kg
Suitable for: fitness personnel, students, office workers, housewives, middle-aged and elderly people.