This lunch box made of food grade aluminum which can withstand high temperature and friction. It can directly cook with fire. This Mess Kit is free of harmful materials, your health is our first consideration. 
Designed with a long folding handle, will not burn your hands when cooking on the fire. Folding handle can save space during packaging. The well-fitting lid allows the lunch box to better retain heat during cooking. You can steam, boil, fry in the lunch box. The compact lunch box is versatile. Enjoy the fun of single camp.
800ML Size is  6.5 * 3.74 * 2.64 inches and it weighs only 0.43lbs.
1000ML Size is 7.6* 5.63 * 3.7 inches and weighs only 0.66lbs
Capacity: 800ml/ 0.8QT.
Suitable for camping, hiking, picnic and other outdoor activities.
Multiple Usage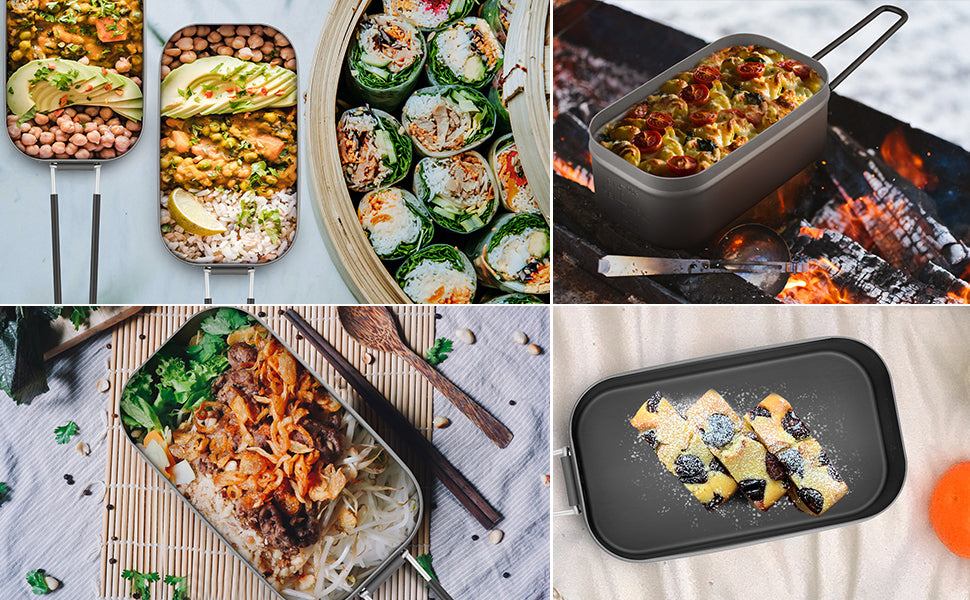 Use the Camping Cookware for steaming, boiling, frying. You can enjoy delicious food even outdoors.