Compared with traditional backpack stoves, our burners can minimize the influence of wind and shorten the boiling time by up to 30%.
All accessories including stove, bowl and fuel canister fit into the 1.4 liter cook pot. This set does not include a fuel canister, but is compatible with most canisters. This item weighs only 470g! The sturdy, hard anodized aluminum pot features a locking stainless steel handle for secure and safe handling, this combined with the Insulation cloth cover on the pot will ensure years of safe outdoor cooking pleasure. Our stove is the ideal cooking system for backpacking, camping, hiking, trekking, fishing, hunting, biking, kayaking, tailgating and all other outdoor activities!
Material:Hard anodized aluminum+ PP
Size:Diameter:115mm/4.5inches Height:250mm/9.85inches
Weight: 550g
Packaging included: 1 Pot+ 1 Stove+ 1 storage bag (fuel canister not included)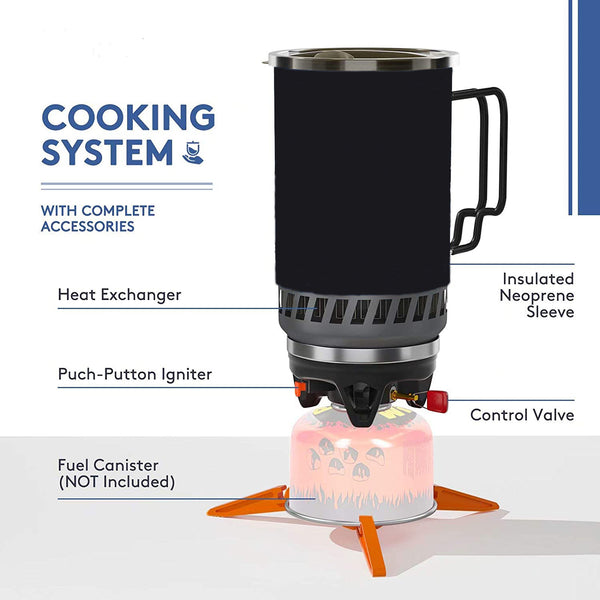 Power: 1000W Capacity:1.4L
Features:
1. The stove, knife, fork, spoon and 220g fuel gas tank can be installed in the pot body without occupying space separately.
2. The energy-gathering ring is designed to actively absorb and dissipate heat, heat up faster, and save gas accordingly.
3. Piezoelectric ignition, without manual ignition.
4. The outer windshield is designed, so you are not afraid of wind blowing outdoors.
5. Ultrasonic welding, beautiful and water-proof.
6. Food grade surface hard oxidation treatment, healthy to use.
7. The heat-insulating fabric of the pot body prevents scalding.
Suitable for 1-2 people