Canadian customers who need to buy this product please Click Here
The wood burning stove is made of premium steel frame and high temperature resistant paint,which is durable,sturdy,helpful for long time use and help withstand harsh outdoor environment.The camp heater for tent has ample heating surface on top of stove, which help make some tasty barbecue, keep a large tent very warm in below cold conditions and boil some water.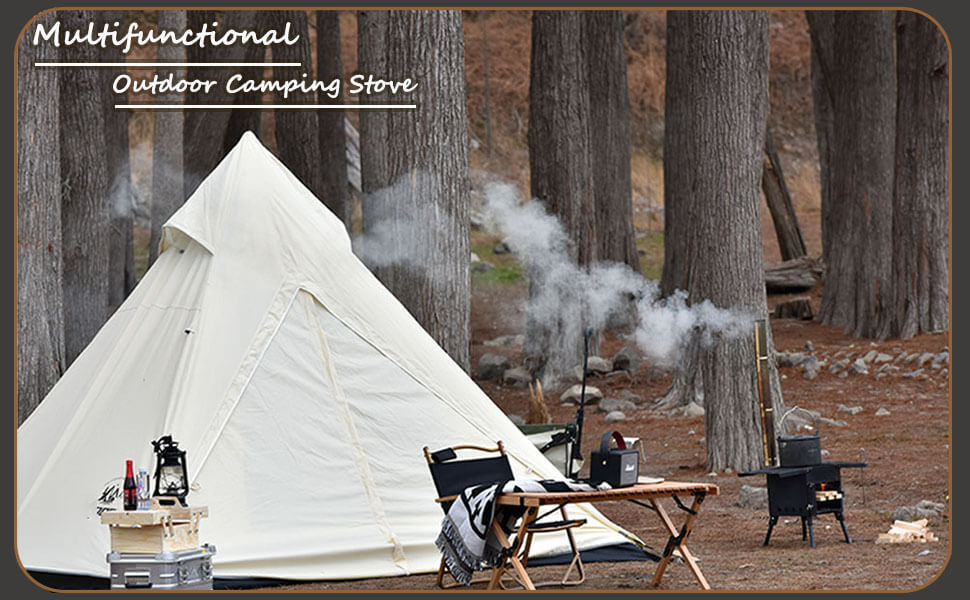 The wood stove designs with 3pcs chimney pipes,which can hold a steady degree vented correctly.You can adjust the chimney pipe to ventilation to meet your heat needs.The stove surface fire hole design also improve heating efficiency.The camp wood stove can be used in bell tent with a stove pipe vent.
The Stove's foldable 4-leg design is very convenient for both travel and storage. The whole stove adopts detachable design. You can easily remove the foldable elements suitable for the furnace, such as the chimney tube and store it in the furnace.
This portable wood stove is suitable for tent,camping, ice-fishing, cookout, hiking, travel,backpacking, picnic, BBQ, outdoor survival and adventures, shelter .and so on.You can make some delicious barbecue to enjoy your outdoor leisure timing with the camp wood stove.
Portable Wood Stove cannot be used in a confined space. In order to avoid incomplete combustion during use, do not put too much fuel at one time. It is better to add a small amount of fuel several times. The burning time depends on the density of the fuel used, the higher the density, the longer the burning time.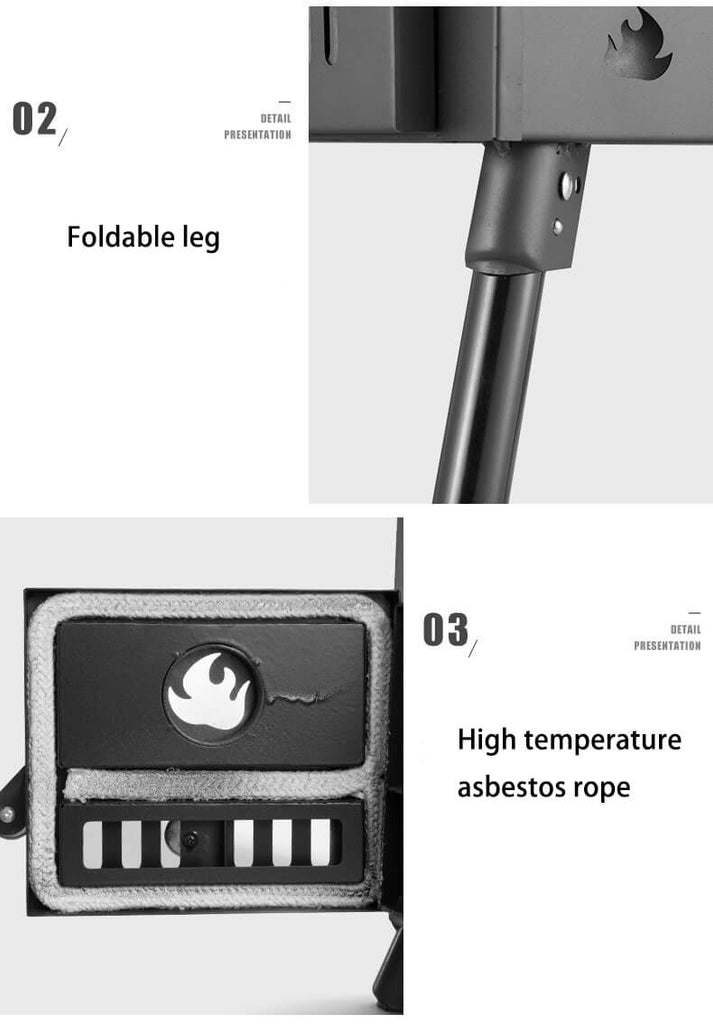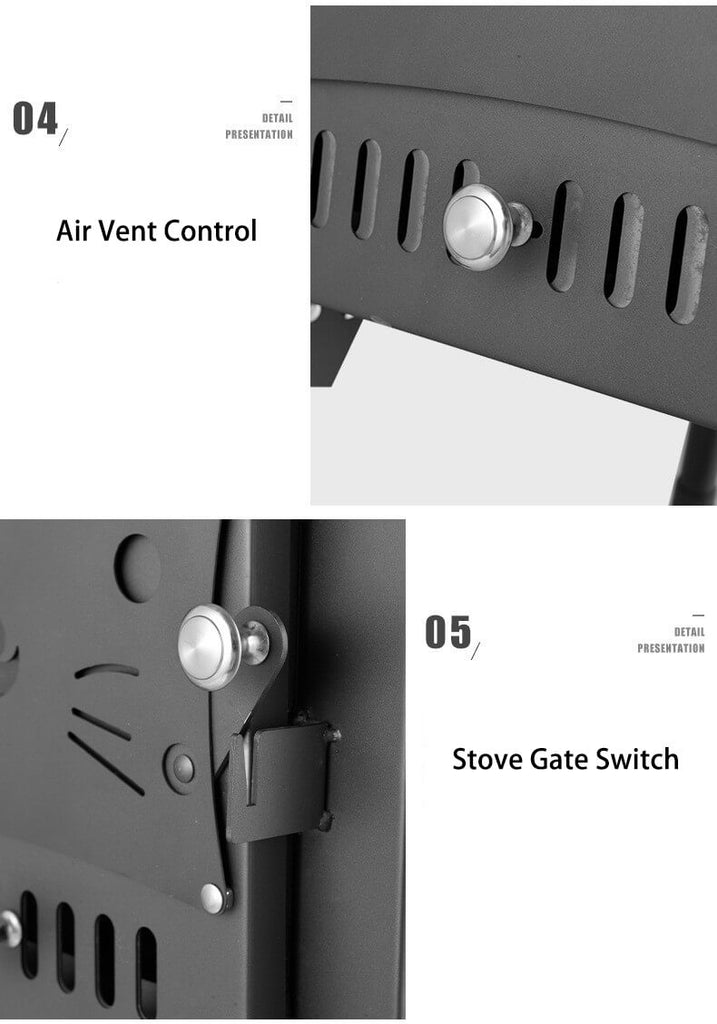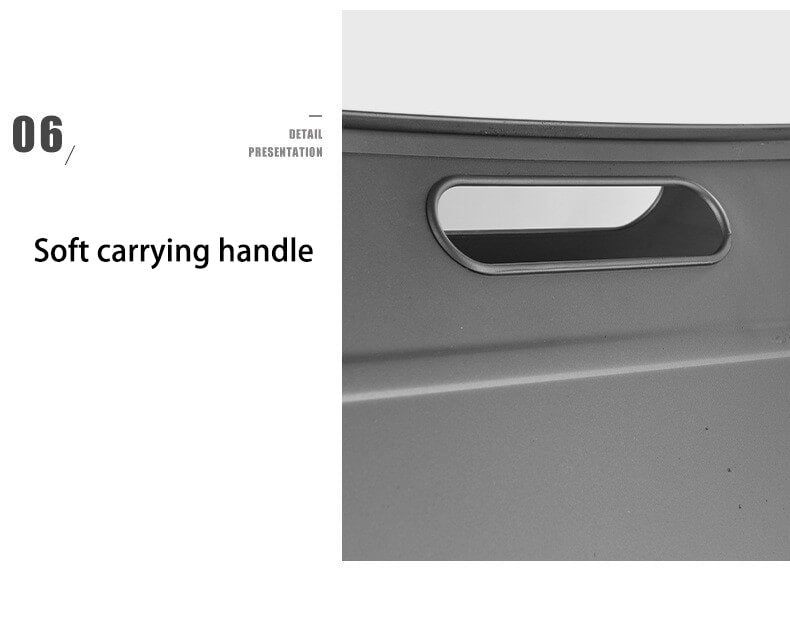 Warm Noted:Wear gloves when assembling the tent wood stove. Prevent sharp edges on pipes and stoves from cutting you.
You are responsible for ensuring that the shelters and tents used have the necessary and appropriate flame retardant properties.
We recommend that you do not leave the stove unattended and make sure to turn it off before going to bed. Always make sure to place the stove on the flame retardant, as accidental sparks may pass directly through the ground.
Expanded Small Furnace size: 22.8"x18"x42.5" ; Side Racks: 11.4"x6.9" ; Furnace height: 42.5" (Include Chimney) 
Package Included (Small): Stove*1   8.66" Chimney*1; 10.23" Chimney*2
Large Furnace size: 30.7"x20.5"x63" ; Side Racks:15.9"x9.35" ;
Furnace height: 63" (include Chimney)
Package Included (Large): Stove*1; 8.66" Chimney*1; 12.6" Chimney*3