Canadian customers who need to buy this product please Clink Here
Both for Rain or Sun: Made of high quality waterproof polyester fabric,this tarp can keep you dry in sudden rainstorms and provide you a safe shelter. PU 3000mm    
With silver coating on the reverse side,it also can protect you from harmful UV rays.  UV 50
Every anchor point is reinforced with extra nylon straps for strength and durability. The strap is double stitched in the fabric. The grommets give you steady anchor points and can prevent the tarp from ripping in the wind.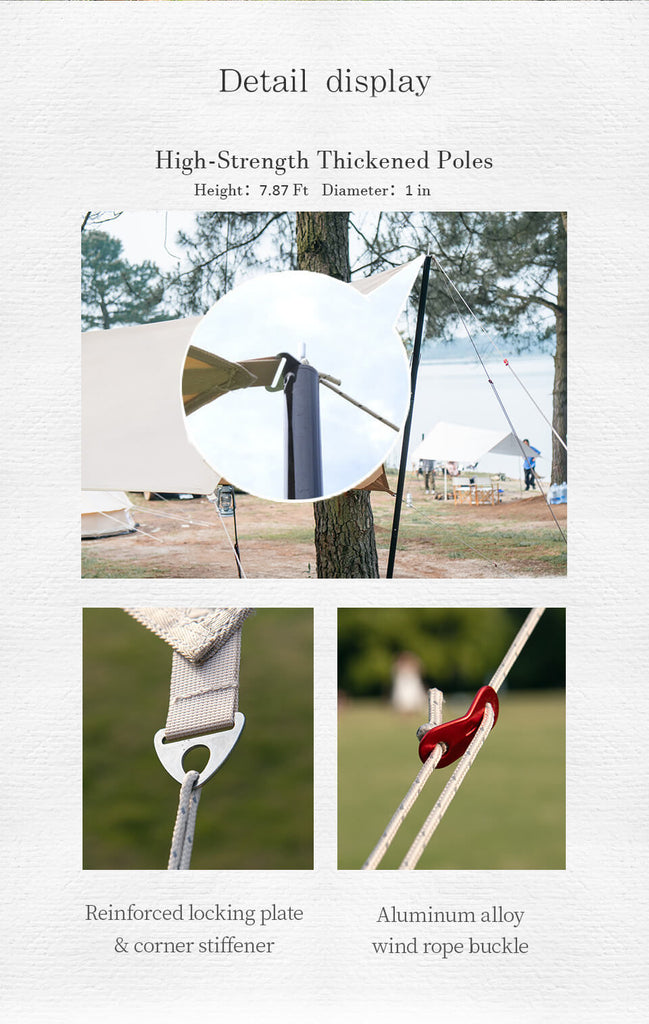 A full set of the tarp and accessories weighs about 5kg,even with 2 tarp poles in the sack. So it is so convenient for you to take it along.The package included a tarp,2 tarp poles, 8 wind rope, 8 noctilucous steel nail and a PE hammer. All of these you can put in the carrying bag. It's convenient to carry out.When you initiate a new travel plan,this tent tarp is your best choice.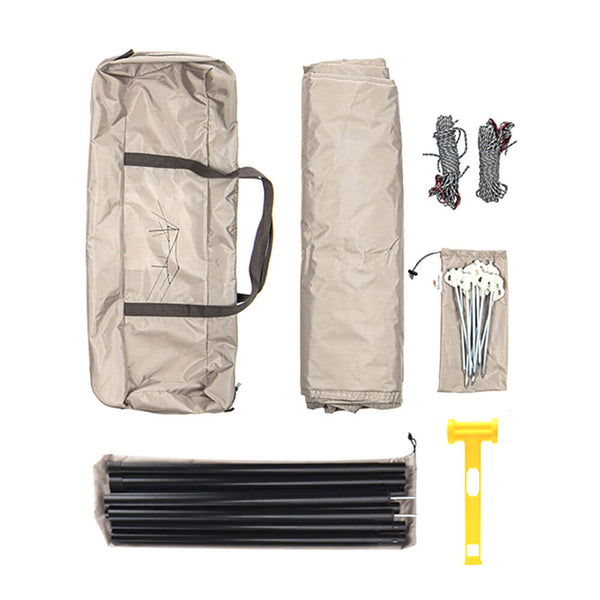 2 poles and 8 wind Ropes are provided for different options you choose to built your tent tarp. When you want to use it to protect a hanging hammock from rains, no poles are needed,you just have to hang the tarp to the trees.When you plan to use the tarp as a shelter to escape the sun, your tent tarp can be built with the poles.
This camping tarp is designed for multiple outdoor activities.Perfect for all outdoor enthusiasts. It can work well over a hammock or set up higher with poles as a shelter to eat or meet under while camping. It also can be used as a blanket on the ground, the shelter for your backyard kitchen or a family gathering.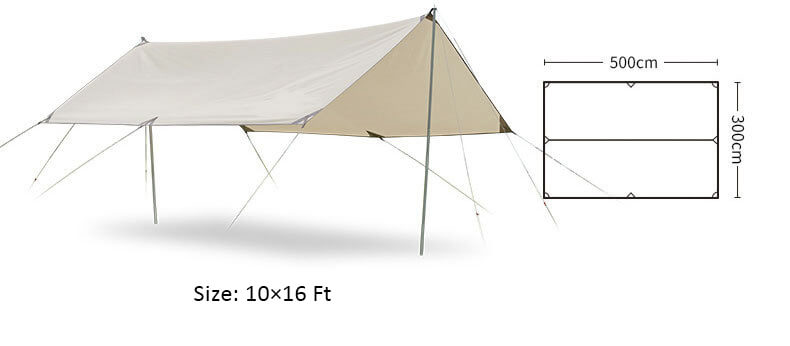 Maintenance method:
Clean up the product after each use. The main cleaning objects are snow, rain, dust, mud and small insects, etc.
This product cannot be washed by a washing machine, please wipe it with a damp cloth, not with chemical detergents.After drying in a cool place, put it in a storage bag and keep it in a dry and cool place which keep awayfrom sunlight
Instructions for use:
Please use it on a flat place.
Please do not hang heavy objects on the corners of the product.
Do not leave this product in the sun and rain for a long time to cause damage to the product.
In case of rain, please wipe and dry before storing to avoid shortening the service life.
Do not store with caustic items.